Join the Journey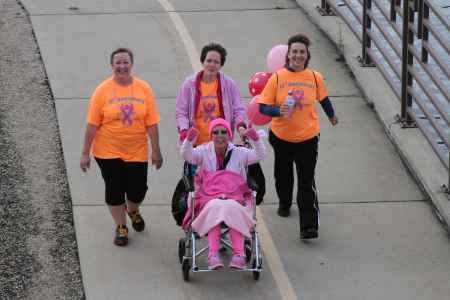 Your Donation Helps!
Join the Journey is committed to raising awareness about breast cancer and supporting individuals with breast cancer in your community. One in eight women will be diagnosed with breast cancer in her lifetime. The American Cancer Society predicts that over 250,000 women and 2,400 men were diagnosed with invasive breast cancer in the United States in 2017; and approximately 3.5 million breast cancer survivors are currently living in the US. These women and men need our support. Your donation will help Join the Journey raise awareness about the importance of early detection through self-breast exams and mammograms and provide funding for our many programs and services to support breast cancer survivors.
Information is powerful. Your donation of $70.00 could provide ten individuals who have been newly diagnosed with breast cancer with a free copy of the Mayo Clinic Breast Cancer Book through our Book Program.
Hope and kindness are meaningful. Your donation of $200 could provide four individuals who have been newly diagnosed with breast cancer with Essentials Gift Bags, containing $25 worth of items to help prepare and ease the journey through breast cancer treatment and a $25 Kwik Trip gift card to assist with transportation to appointments.
Your generosity and kindness are invaluable and greatly appreciated. No donation is too small to help. Please click on the link below and follow the instructions to make an online donation.
Donations are fully tax-deductible to the extent allowed by law. Join the Journey is a non-profit, 501(c)(3) public charity.
We are also grateful and welcome any in-kind (product/service) donations. Here is a "wish list" of possible donation items:
Support items for survivors: journals, fuzzy socks, stationary, knitted caps, wigs (new), scarves.
Prizes for our Walk raffle
Office supplies: white paper, pink paper, paper clips, manila envelopes, folders.
Donations can be dropped off at the Join the Journey office Monday 1-3pm., Tuesday 9 am - 5pm and Thursday 1-3 pm. Please Contact Us to let us know when you will be coming.
Our current Sponsors/Donor List can be viewed on our Sponsors and Donors Page.

Current Platinum and Gold Sponsors