Join the Journey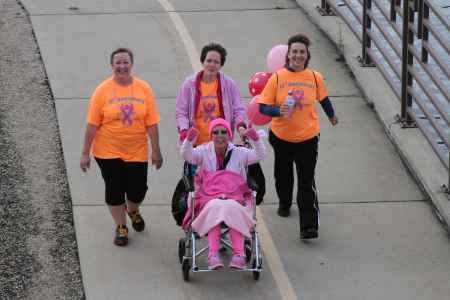 Thank You to our Generous Sponsors and Donors
Join the Journey would not be able to provide support to breast cancer survivors in our community without the generosity of our sponsors and donors. We greatly appreciate each and every financial and in-kind donation we receive. Every contribution helps us to make a difference in the lives of local breast cancer survivors.
Interested in hosting a fundraiser or becoming a sponsor?
2016/2017 Sponsors and Donor List:
Platinum ($2,500 or more)
Business
Deer Creek Speedway/Queensland Family
Mayo Cancer Education Program
Rochester Ice Hawks
Powers Ventures
Pharmaceutical Specialties
iHeart Media
Thatcher Pool & Spas
Eisa Inc.
Gold ($1,000 or more)
Individual
Wayne and Barb LaJoie/Varian Partners in Giving
Dean & Stephanie Lindeman
Patrick Karls/In Memory of Cindy Karls
Mark Pederson
John Hick
Business
The Reunion Band
Mayo High School
Kwik Trip
Home Federal Savings Bank
Andy's Liquor
Olmsted Medical Center
MOKA
Rochester Fire Relief Assn.
Caribou Coffee
CWS, Inc
SuperCloset, Inc
Med-City Collision
MN Equestrian Center
Rochester Tennis Connection
Collins Orthodontics
Quilters Sew-Ciety
Bremer Bank
Ryan Windows & Siding/Bruce & Katie Ryan
Post Bulletin
HyVee Food Stores
Breast Clinic at Mayo Clinic
Psimos Oral Surgery
Excel Images
Johnson Printing
Byron Pet Clinic
Fareway Advertising
Superior Mechanical
Pine Island & Kenyon/Wanamingo Volleyball Teams
Silver ($500 or more)
Individual
Gene & Lori Swanson
Dr. C. Mike & Mary Harper
Dr. & Mrs. Charles Loprinzi
Linda K. Miller
Dr. & Mrs. Nicholas Psimos
Kelly Brenno Carpenter
Dr. Mark & Patricia Allen
DLF Custom Rods
First Student Bus Company
Genomic Health, Inc.
Kahn Trucking LLC/Dick & Cyndie Kahn
The Loop
Lasker Jewelers
Mazeppa Lions Club
National Fleet Graphics
NOVA Restaurant Group
Rochester Area Foundation
Rochester Draine Rite Inc.
Rochester Lions Club - Morning Pride
Bronze ($250 or more)
Individual
John & Cindy Benike
Jody & Tom Bower
Don & Kathy Engen
Janet Flack
Rick & Pam German
Ronald & Karen Greenslade
Dr. John F. & Maureen Lawson
Drs. Lindy Hankel & Tim Moynihan
Cletus Pollack
Diane & Dick Trisko
Sue Whitcomb
Mike & Kathy Williamson
Business
Cook's Pantry
Scale Model Toys
SideOut
Rather Bee Quilting
Wash Me Car Wash