Join the Journey
Annual Breast Cancer Awareness Walk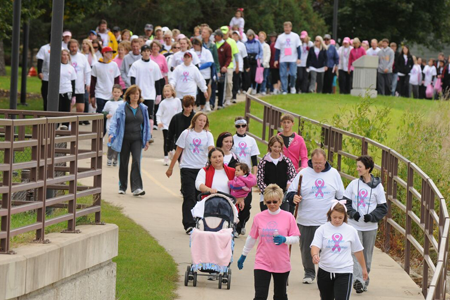 Add Editable Region
Add Editable Region
Add Editable Region
Save the date: Our 2016 Breast Cancer Awareness Walk will take place on Sunday, September 18 at Mayo High School. Online and paper registration will be available in the Spring of 2016.
Annual Breast Cancer Awareness Walk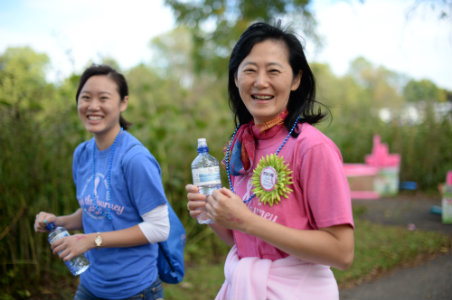 Each year on the third Sunday of September, approximately 1,000 breast cancer survivors and supporters join together to celebrate life, remember loved ones and share in the journey. In 2015, Join the Journey celebrated its 11th Anniversary Walk, and we raised nearly $80,000. Check out our 2015 Walk Gallery to view photos of the big day!
The walk begins with balloons, noise makers, music and streamers. You will walk (and paddle) on a ten-mile journey with friends, family and folks whom you have never met. No matter who you walk with, the support is tangible.
The purpose of the walk is to increase community awareness regarding breast cancer screening, breast health and support those women and men living with the diagnosis. It is also Join the Journey's largest and most significant fundraiser, raising most of the annual operating expenses to run its programs and services.
2015 WALK RECAP
This year, we had an incredible walk to raise breast cancer awareness and support local survivors! The outpouring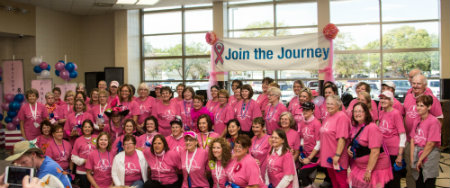 of love and support from our community was tremendous, with over 1,200 participants! We raised nearly $80,000.
Julie Jones from Fox 102.5 gave a welcome speech that was a moving tribute to survivors and Join the Journey's programs. Our volunteer motivators from area schools and businesses pumped up the walkers. We had fun pre-walk activities like: continental breakfast, mini-massage, mural signing, memoriams, a children's scavenger hunt and education stations. We had high-quality pink-ribbon merchandise for sale, and a raffle with over 30 incredible prizes! Our five-mile rest stop was a hit with a super-hero theme.
We capped off the walk with a delicious lunch donated by Catering By Design. All of their helpers were volunteers, and CBD donated food to feed every single participant! We can't thank them enough for making our walk special each year. Special thanks also to the Reunion Band (formerly Booker Mini Foundation) for serenading the lunching crowd with all our favorite tunes!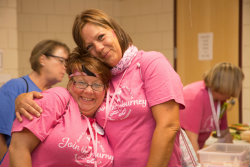 Our over 120 volunteers worked their magic again this year putting everything together. We could not put on a walk of this magnitude without their help!
Our walk teams made amazing fundraising efforts! The top fundraising teams were Cindy's Hope ($4665), Simply the Best ($3150), and Zeppa Chix ($2775). Our teams with the most members were Shining Stars (48), Michelle's Breast Friends (36), and Cancer Bites (28). Thank you so much!
Thank you also to our many sponsors. Please visit our Sponsors page for a complete listing. Please support these local businesses who are so generous to us.
See you next year for our 2016 walk!
2016 Walk Scholarship Program
If you know someone who is unable to pay or fundraise his or her registration but whose story is closely connected to breast cancer and who wishes to participate in our walk, he or she could be granted a scholarship to participate in the walk free of charge.
All persons interested in the Walk Scholarship must submit the Walk Scholarship Application Form on or before August 1, 2016. Join the Journey will use this application process to select the recipients. No more than twenty scholarships per year will be provided. All applications must be completed and signed with t-shirt sizes included by the deadline. Applications received after the deadline will not be considered.
Other Information
Still have more questions about our walk? Check out our Walk Frequently Asked Questions.
Are you interested in becoming a sponsor for our Walk? Please visit our Sponsor an Event Page for more information.
Are you interested in volunteering at our Walk? Please visit our Volunteer Page for more information.