Join the Journey
Annual Breast Cancer Awareness Walk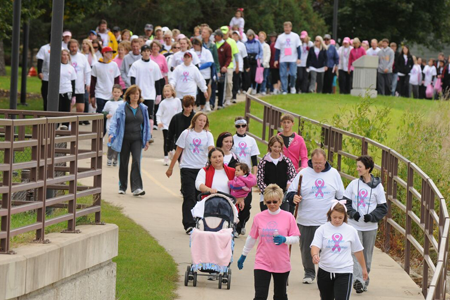 2015 Walk Registration is Open!
Annual Breast Cancer Awareness Walk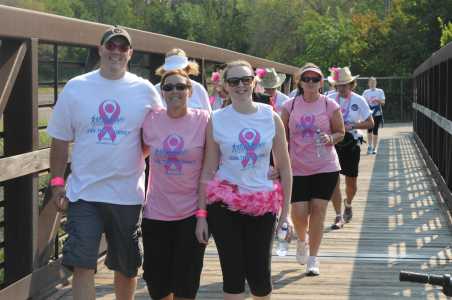 Each year on the third Sunday of September, approximately 1,000 breast cancer survivors and supporters join together to celebrate life, remember loved ones and share in the journey. In 2014, Join the Journey celebrated its 10th Anniversary Walk, and we raised nearly $100,000. Check out photos from our 2014 Walk!
The walk begins with balloons, noise makers, music and streamers. You will walk (and paddle) on a ten-mile journey with friends, family and folks whom you have never met. No matter who you walk with, the support is tangible.
The purpose of the walk is to increase community awareness regarding breast cancer screening, breast health and support those women and men living with the diagnosis. It is also Join the Journey's largest and most significant fundraiser, raising most of the annual operating expenses to run its programs and services.
2015 WALK
Sunday, September 20, 2015
Mayo High School – 1420 11th Avenue, SE, Rochester, Minnesota
Schedule of Events
Saturday, September 19th
9am to Noon Pre-Registration/T-shirt Pick-Up
T-shirt pick-up for pre-registered walkers at Mayo High School (via Door One).
Purchase raffle tickets (cash or check only) for great prizes or pre-purchase Raffle tickets now! You can pre-purchase raffle tickets right now by emailing the Join the Journey office at info@jointhejourney.us to request yours for pick-up! Only cash or check accepted for raffle tickets. For a list of our raffle rules, prizes and donors, please click here.
Purchase inspiring and high-quality pink-ribbon merchandise by Sideout Rochester. A portion of the proceeds benefits Join the Journey. Clothing and merchandise available may vary each year; but we often have dri-fit t-shirts, hoodies, 1/4 zip sweatshirts, socks, jewelry, slippers and more!
Sunday, September 20th
7:45am Registration
Same-day registration (come early as shirt/lunch availability may be limited)
T-shirt pick-up for pre-registered walkers
Continental breakfast, raffle, mini-massage, mural signing, memoriams, balloon art and scavenger hunt for children and education stations
8:45am Opening Ceremony
9:00am Ten-Mile Walk
Walk the full ten miles or as much as you feel comfortable. Shuttle buses available.
Enjoy a unique dragon-boat ride and photo-ops
Refresh at the five-mile stop
12:45pm Lunch
Enjoy lunch by Catering By Design, closing ceremony, survivor recognition, and announcement of raffle winners
Registration Information
Please register by September 9, 2015 to guarantee a t-shirt and lunch.(2015 t-shirt is your ticket for the walk, lunch and festivities)
To register by mail, please submit the registration form portion of our 2015 Walk Brochure.
The donation is $50 for adults, $15 for children ages 3 to 18, and FREE for infants under 3 years old. Your donation can be paid by cash, check or credit card. Additional pledges/donations will be accepted on your personal fundraising page, by mail or at the event. Invite friends, relatives and co-workers to sponsor you or to join your walking team. Check out our easy-to-use personal fundraising page, which you can email to everyone! Add your photos and write personal sentiments. It's simple, fun and a chance to tell your personal story or honor someone special!
Celebrate the Journey with us and support breast cancer survivors in our community!
2015 Walk Scholarship Program
If you know someone who is unable to pay or fundraise his or her registration but whose story is closely connected to breast cancer and who wishes to participate in our walk, he or she could be granted a scholarship to participate in the walk free of charge.
All persons interested in the Walk Scholarship must submit the Walk Scholarship Application Form on or before August 1, 2015. Join the Journey will use this application process to select the recipients. No more than twenty scholarships per year will be provided. All applications must be completed and signed with t-shirt sizes included by the deadline. Applications received after the deadline will not be considered.
2015 Raffle
Join the Journey's 2015 Walk Raffle is better than ever this year. Tickets are $5 each. The winners will be selected at our 2015 Walk on September 20, 2015 at 10am. You need not be present at the Walk to win. You must be 18 years or older to purchase raffle tickets. Raffle rules prohibit online sales, so please contact us at info@jointhejourney.us to find out where to buy tickets. We will be pre-selling raffle tickets beginning in June. We will also be selling tickets at Walk pre-registration (Saturday, Sept 19 between 9am and noon) and at our Walk (September 20, 2015) before the 10am drawing. We accept cash or check only. Check out our 2015 Raffle Prize List to view this year's raffle prizes.
Other Information
Still have more questions about our walk? Check out our Walk Frequently Asked Questions.
Are you interested in becoming a sponsor for our Walk? Please visit our Sponsor an Event Page for more information.
Are you interested in volunteering at our Walk? Please visit our Volunteer Page for more information.
Walk Photo Gallery