Join the Journey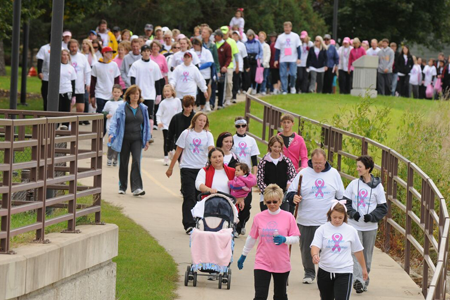 2015 Bras for a Cause
We had an amazing event on Saturday, October 3 at Rochester Madza! We raised over $5,800! Many families and supporters enjoyed the Big Event bounce house; a turtle and kestrel from Zollman Zoo; fabulous balloon art from Dr. Kurland; mini pumpkin decorating; and a fun, pink photo booth. Breast cancer surivor Officer Carrie Koehler dropped by with coloring pages and police-badge stickers for the kids! Our beautfiul pink-ribbon merchandise from SideOut Rochester was a big hit! Children loved the temporary glitter tattoos from A Child's Kingdom, which raised $80 for Join the Journey. Mac's Mobile Food Truck made sure everyone got a delicious lunch!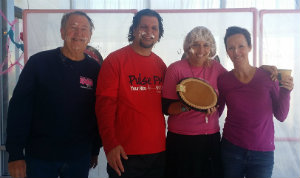 From 12:30pm to 1:30pm, the Mayor of Rochester, Ardell Brede, and local radio celebrities Julie Jones from Fox 102.5, Tom Garrett from 97.5 Pulse FM and Tracy McCray from KROC AM bravely volunteered to be the targets of our "Pie In the Face" throwing fundraiser, which raised over $200 for local breast cancer survivors. It was a sticky, fun mess!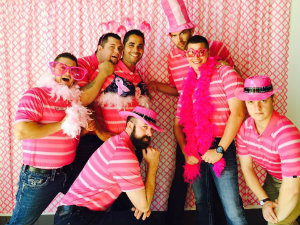 Thank you to our 2015 Bras for a Cause sponsors and contributors: Rochester Motor Cars (pictured right: their amazing Mazda team), Fox 102.5, Lesmeister Hot-Air Balloons, Oxbow Park/Zollman Zoo, The Big Event Bounce Company, HyVee, Sekapp Orchards, Mac's Mobile Food Truck, A Child's Kingdom, Katrinna Greentree with Thirty One Handbags, and Thrive Wellness. A special thanks to Kenny, who collected a record total of 7,036 bras!
Thank you to the sponsors below for offering their place of business as a 2015 Bra Donation Location:
All Rochester Motor Car locations, Rochester Pet and Country Stores, Hank & Purls Creative Nook & Knittery, Roscoe's BBQ, Whistle Binkie's Pubs, Rochester Area Family YMCA, iHeartMEDIA Studios, JAC'S Bar and Grill - Chatfield, MN, Shari's Sports Saloon & Lanes - Chatfield, MN, Shear Class Hair Design - Chatfield, MN, Depot Outlet Store - Decorah, IA, The Hair Loom - Decorah, IA Central Motors Inc. - Spillville, IA.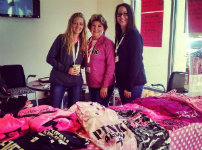 Thank you so much to our amazing volunteers for making this event possible! If you are interested on becoming a Join the Journey volunteer, please visit our Volunteer Page.