Join the Journey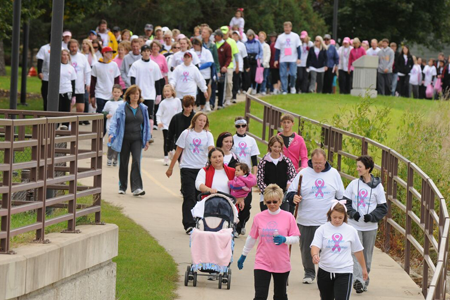 Pink Out at Deer Creek Speedway - June 24, 2017
Enjoy an exciting day at the race track and support breast cancer survivors! Join us for a day of fun at Deer Creek Speedway (15 miles South of Rochester, MN on U.S. Highway 63) to honor breast cancer survivors and raise awareness about breast cancer.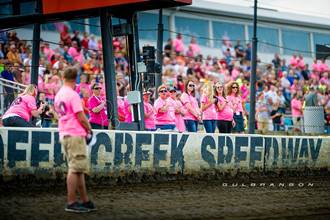 As always at Deer Creek, the event features explosive stock-car racing action at one of the most state-of-the-art racing complexes in the country. A full-service campground is located within the facility, so fans can make it an all-day event!
Tickets can be purchased deercreekspeedway.com or by calling 507-754-6107 or 877-DCS-RACE.
2016 Pink Out at Deer Creek Re-Cap

Hundreds of fans attended in pink to increase awareness for breast cancer, and we raised over $11,000 in support of local breast cancer survivors! One-of-a-kind Deer Creek Pink Out shirts were on sale at the event and will continue to be on sale at deercreekspeedway.com through 2016. T-shirts are only $15; and for every shirt sold, Deer Creek donates $2.50 to Join the Journey.
We had a moving opening ceremony to honor survivors and anyone who had been touched by breast cancer, and thanks to National Fleet Graphics, many cars were wrapped in pink. An autographed, pink-ribbon flag and four NASCAR tickets (courtesy of the Wasmund Family and Med-City Collision) were auctioned off at the event. Auctioneer Greg Jensen also auctioned off his own race car and donated $1300 of the proceeds to Join the Journey. We also held a 50/50 raffle, which raised $1472! Join the Journey sold a variety of pink-ribbon merchandise from Sideout Rochester at the event, as well as pink water bottles donated by Med-City Collision. Deer Creek Speedway/the Queensland Family also helped raise money at the event by hosting a silent auction and by pumping up racers in a push-up challenge (sponsors donated $1 for every push-up). The passion of the Deer Creek fans and sponsors for Join the the Journey's cause was heartfelt and moving, and the energy at the event was phenomenal! 2017 promises to be even better, so you won't want to miss this action-packed day in support of breast cancer survivors. Fun for the whole family!
Check out Deer Creek Speedway's video for the 2015 Pink Out event!
If you are interested in becoming a Pink Out at Deer Creek Speedway sponsor, please Contact Us or for more information on sponsorship, please visit our Sponsor an Event Page.
If you are interested in volunteering or assisting the planning committee for Pink Out at Deer Creek Speedway, please visit our Volunteer Page.